Frequently Asked Trekking Questions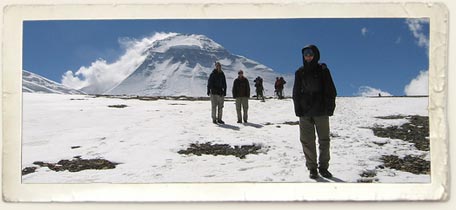 How can I find out more about one of your treks?
If you would like to find out more about one of our treks, perhaps one that we have detailed on this site or you may have other ideas, then please contact us using our contact form.
How difficult is the trekking?
If truth be told, trekking is no more than simply walking for pleasure off-the-beaten-track, where you will enjoy extreme wilderness untouched by modern development. Yet it demands a physically fitness. But don't be afraid! You need not develop knotted muscles to be fit for trekking. To trek, you have to be neither a mountaineer nor athlete. Anyone with pair of strong legs, a will for adventure to explore the exotic nature will enjoy the thrill of trekking.
We only ask you take the flight of stairs instead of escalator in your office and apartment several months prior to starting trek. Regular bicycling, swimming, jogging, cross-country skiing, aerobic exercise would be greatly beneficial for you. Don't tell yourself that you will get in good shape after a few days of walking. When you climb toward a high pass of 5000m after 3-4 days trekking, you will be a lot happier if you have taken regular exercise before set off.
How many hours will I need to walk?
For many of the trekking areas you need to walk at least 3hrs before lunch break and 2hrs after lunch. Sometime you need to walk 8-9hrs per day when you are doing a Tea House trek, for you are fully dependent upon trailside lodges and inns for accommodation and other provisions. In case of a Full Catered Camping Trek it is up to you how far you want to walk each day, you are not governed by particular destination. You have all the provisions carried along by our porters and other trekking crews.
How should we fuel ourselves during the trek?
During a Tea House Trek you buy food and sleep in trailside lodges and inns. Many of the trailside lodges offer a menu consisting of a wide range of food items especially in popular trekking areas. On the other hand our trained guide and experience porters have the ideas to keep you fit all round your trekking time.
For the Full Catered Camping Trek we prepare food as per your likings. We arrange everything before you set off for trekking. Our trained trekking cooks will prepare food for you. The items of tinned food available in Kathmandu may have a slightly different taste, though the foods are very hygienic and nutritious.
In case of rescue or evacuation?
Thanks to being one of the active members of Himalayan Rescue Association, getting any help to our clients is rapid.
Adventure Gorkha Treks and Expeditions prides itself on being prepared for any emergency situation. Our guides are trained in first aid and can deal with most of the basic ailments that occur during a trek. But if a serous emergency occurs, then outside help is needed. Every client should have his or her own insurance before coming to Nepal or any of the other countries we trek in. If an emergency occurs, Adventure Gorkha Treks and Expeditions will initially cover the cost of an evacuation until your insurance company delivers payment.
Tea House Trek or Camping Trek?
Tea House Trek:
Along the popular trekking routes as such Everest, Annapurna and Langtang region, there are lots of trail-side lodges and inns where we can take food and stay overnight in lodges and inns. We are not equipped with camping gear. We take along with us the apparel that we need during the trek - cameras, medical kits, and other things of a personal nature. A guide and a porter or two accompany you. In Nepal it is hard to find yourself in complete wilderness until you are above 4,000m (12,000ft). Still, you will sometimes encounter taut nomad people during summer when they herd highland-cattle for grazing.
Camping Trek:
You're fully catered for camping. All the camping gear including foodstuff, tents, sleeping bags, medical kits and other relevant stuff will be carried along the trek by our porters and packed animals. We pitch the camp on marshland or where is the most suitable and eat the food that our trained cooks prepare. You will be accompanied by a guide, Sherpas, cooks, porters and sometime packed animals.
What about AMS (acute mountain sickness)?
Yes, it is certain that if you rapidly gain height you will feel a sort of sickness in high altitude commonly known as Acute Mountain Sickness. But with good planning and common sense it is easily avoided. AMS occurs as the result of a failure to adapt to higher altitudes. Fluids accumulate in between the cells in the body and eventually collect where, unfortunately it can do the most harm in the lungs and brain. As the fluid collects in the lungs, you become breathless more easily while walking and eventually more breathless at rest. A cough begins, initially dry and irritative, but progressing, in its most severe form, to the production of pink, frothy sputum. The person ultimately drowns in this fluid if he/she doesn't descend. This syndrome is referred to as High Altitude Pulmonary Edema (HAPE).
When fluid collects in the brain, you develop a headache, loss of appetite, nausea and sometimes vomiting. You become increasingly tired and want to lay down and do nothing. As you progress, you develop a problem with your balance and coordination (ataxia). Eventually you lie down and slip into coma. Death is inevitable if you do'ít descend. This syndrome is called High Altitude Cerebral Edema (HACE). HAPE and HACE can occur singly or in combination.
What if I want to go trekking in Tibet?
We specialise in Trekking in Nepal, so visit our friends at Nepal Trekking Holidays for trekking in Tibet options.
Why people choose us for trekking in Nepal
At Adventure Gorkha Treks and Expeditions we specialize in adventure travel with a personal touch. The company was founded by people with years of adventure travel experience who believe, through the knowledge gained by having personally been there and lived there, that we bring more to your trekking experience.
We are committed to providing you with adventures of unsurpassed value, both personally and financially. All destinations are based upon our personal experiences, so we can answer any questions you may have. The owners and staff of Adventure Gorkha Treks and Expeditions have walked the trails, trekked the mountains, visited the sites, eaten the food, tasted the wines and experienced the amazing wildlife safaris. The services, whether it is the outfitter in Nepal or the hotel, have all been put to the test by us - if they did not meet our expectations, which are exceptionally high, we do not offer them to you.
Our prices are competitive. When you compare all the advantages we offer, they are the best in the industry, offering unsurpassed value. We handle groups large and small. Please note that groups as small as two may customize their itineraries to fit specific areas of interest.
If you compare our tours with others being offered, you will see certain similarities - after all, there are only so many routes to any particular destination. However, when you dig a little deeper you will see the advantages we offer. You will immediately see the detail and effort that we apply to ensure you have a remarkable and enjoyable trekking adventure.
Photo courtesy of Helen & Andrew Purdam